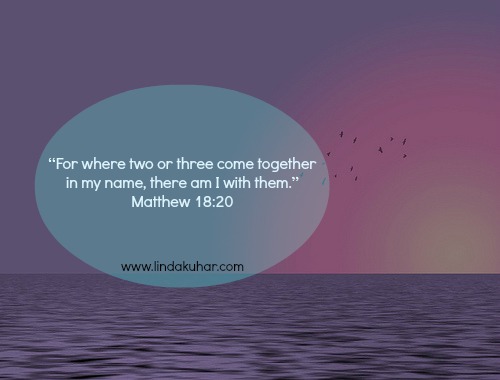 Do you ever find yourself so distant from God you don't even know where or how to connect with him?
Sometimes I feel it is nearly impossible to get even a tiny glimpse of his presence.  When that happens I find it is real easy to get off track quickly.  I end up sleeping in a little later the next day and skipping my daily quiet time.  Not before long I can look back and see it's been days since I've encountered God and I find myself in a bit of a funk!
There are so many ways to develop our relationship with God, however we must be intentional and possibly even strategic about it.
Matthew 18:20 says, "For where two or three come together in my name, there am I with them."
One powerful way to build your relationship with God is by connecting with other believers.  Going to church and bible study is wonderful, however to really dig deeper in your relationship with God, I recommend finding one or two other people in your life to pray with.
If you're like me, I thought at one time, there is no way I'm going to pray out loud.  I was afraid I was not eloquent or spiritual enough to rattle off a prayer in front someone else.  However, I found out this is where real intimacy with God is created.  The Holy Spirit is most powerful in our vulnerabilities.  This is where our authentic relationship with God reveals to us that it's not about "doing" or "saying" but simply just being in his presence.
Who can you pray with today?  I want to encourage you to step outside your comfort zone and see how God will reveal himself to you with a deeper connection.  I would love to hear from you!
Everyone who comments today will be entered to WIN Lysa TerKeurst book What Happens When Women Say Yes to God.  Join me and over 18,000 other women in our next Online Bible Study as we say Yes to God together!  Winner will be announced on next Tuesday's Inspirational Coaching Minute post.
If you do not already receive my blog, click here to subscribe to my blog and receive your free gift today!
Honored to Coach women around the globe at www.lindakuhar.com!