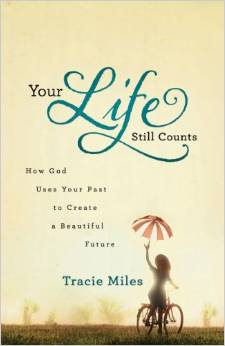 A signed copy of Your Life Still Counts by Tracie Miles!!!!
Do you ever feel like you are insignificant or that your life really doesn't matter? Do you feel weighed down by past heartaches, failures or regrets? Do you wonder what is my purpose in this world?
Tracie Miles relates to all of these questions in her new book. She shares her personal story of teenage pregnancy and abortion to encourage readers that God can use their life no matter what. Tracie shares stories of twenty other women who have extremely challenging past, that could have given up all hope, however God used each one of them to create a beautiful future.
If you need inspiration and are ready for a brand new perspective on life this is a must read!
Everyone who comments will be entered to win a signed copy of Your Life Still Counts. God can turn your past into your purpose! 
Share in the comments below how I can pray for you today.
Tweet this: God can turn your past into your purpose. @traciewmiles #yourlifestillcounts
If you do not already receive my blog, click here to subscribe and get your free gift today!
Linda Kuhar is a Certified Christian Life Coach, Board Certified Life Coach, Certified Human Behavior Consultant, Writer, Speaker, and Mentor. Click here to learn more about coaching with Linda & frequently asked questions about the coaching experience.