Click HERE to purchase a signed copy from the author!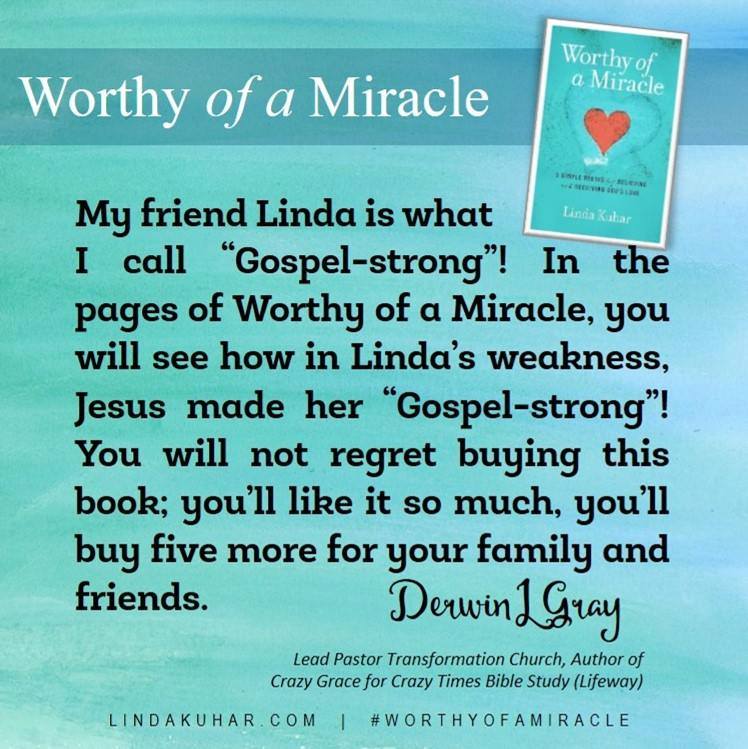 Despite a miraculous recovery from a coma, Christian life coach Linda Kuhar still struggled with a question so many wrestle with: "Am I worthy of God's love?"
After prayer brought Linda Kuhar back from the brink of death, she was in demand as a speaker for Bible study groups and other Christian organizations. There was one problem–deep down, Linda didn't believe she recovered because God miraculously healed her … she did not believe she was worthy.
Worthy of a Miracle is not only about Linda's physical healing but her spiritual healing and how she discovered her true worth in Jesus. It is a guidebook for any woman who wants to more fully own her inheritance as a daughter of God. And it is for you, no matter where you currently are on that journey. It is not a step-by-step instruction manual on how to become "worthy," but rather an inspirational practice to deepen your awareness of how worthy you already are by accepting the relationship Jesus offers.
Over the years Linda learned how to use an acronym as a simple reminder of how to live in the truth about her worth and relationship with God. To walk you through your own shift in perspective about how worthy you are, Linda shares with you the most important lesson she learned along the way: Jesus is the answer.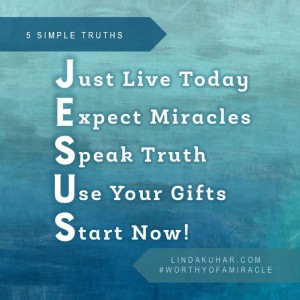 As a Christian coach, Linda has written a book that uses the elements of memoir to teach simple, practical strategies anyone can use to deepen their walk with God and begin to recognize the everyday miracles we all receive. Click HERE to order from Amazon!

                                           ~Praise for Worthy of a Miracle~
Linda's story is an amazing example of God's mighty power and faithfulness. If you're believing God for something that seems impossible, let this book empower you to believe you are worthy and He is with you! – Lysa TerKeurst, New York Times bestselling author and president of Proverbs 31 Ministries
Linda Kuhar extends an invitation to find an extraordinary God at work in the middle of our ordinary lives. She offers faith, encouragement and, most of all, hope. Whether you're going through a difficult time or are simply looking for inspiration and a new perspective, Worthy of a Miracle will meet you where you are and help you see what could be. – Holley Gerth, Wall Street Journal Bestselling Author of You're Already Amazing
My friend Linda is what I call "Gospel-strong"! In the pages of Worthy of a Miracle, you will see how in Linda's weakness, Jesus made her "Gospel-strong"! You will not regret buying this book; you'll like it so much, you'll buy five more for your family and friends. ­­– Derwin L. Gray, Lead Pastor Transformation Church, Author of Crazy Grace for Crazy Times Bible Study (Lifeway)
I knew Linda's story would be inspiring, but had no idea how much her book would touch my heart as a woman, a wife, a parent and a believer. Seeing how God orchestrated small and life changing miracles in her life literally moved me to tears as I witnessed the tangible proof of the power of God at work. Her story is a beautiful reminder of God's sovereignty, packed with scriptural promises and practical steps for growing our relationship with God, while reminding us all that we are worthy of His miracles too. – Tracie Miles, Christian Speaker & Writer, and Author of two best selling books, Your Life Still Counts: How God Turns Your Past Into A Beautiful Future and Stressed-Less Living: Finding God's Peace In Your Chaotic World. 
I heard Linda's cancer story numerous times through our connection with the Team In Training program with Leukemia and Lymphoma Society, but reading her book gave me a brand new perspective on the challenges, fears, choices and triumphs she, her family and friends faced in her fight against lymphoma.  As her coach for her first half marathon, just six months after her coma, I never saw her back down on her commitment to train for and complete her 13.1 mile victory, even when the going got tough. What I did see was how that commitment inspired her fellow teammates to persevere. I admire that she has the courage to build on what she learned from that experience to go after her purpose in life. ­– Beth Carty, Team In Training Coach for the Leukemia and Lymphoma Society
Linda's book is her personal, beautiful, and inspiring story of God's faithfulness, and her story is for any woman who has ever felt she was not worthy of a miracle. Linda learned how to open her heart to receive His gift of amazing love as God "used a physical coma to fully reveal to her how to have a relationship with Jesus."  – Janice LaVore-Fletcher, PCC, MCC, BCC, President of Christian Coach Institute, LLC
"I am just reaching out to you to say THANK YOU for the blessing of your book. I received it just recently and have read through its entirety in less than two days. It was filled with many wonderful reminders for me, as well as much inspiration to better and more actively pursue a relationship with Jesus. Often times I find myself just going "through the motions" of being a Christian, rather than committing myself to having that intimate relationship with my Creator we are so called to have. Again, thank you for aligning your life with God's will to tell your story; you've definitely been an impact!" – Audrey W., Reader
"Warning: I could not put down this book! Kuhar is a strong storyteller, and her voice is refreshingly authentic and honest, making her immediately feel like a close friend. This book is a guiding light for those who struggle with doubt, and a reminder to put aside what we know in our heads, and passionately seek God with our hearts." –Rachel A., Reader
"I can't even begin to tell you how many pages were speaking DIRECTLY to me! There were moments that I thought you must have written this just for me!"–Ami S., Reader
"Linda Kuhar wrote her guts out with this incredibly uplifting and encouraging book! I couldn't put it down once I started. Her story-telling manner is so real, raw and captivating! You will nod your head through so many parts and finish this book with a very big, "WOW, GOD!" I'm so glad she included photos in her book because what God saw her through will let every reader know that they are WORTHY OF A MIRACLE, too! Get this book!"        – Stephanie F., Reader
"This is an amazing read! What a powerful story that was very moving. This was a miracle within a miracle! Very thought provoking and easy to read. Linda shared her personal journey with candor and vulnerability. She represents the "real" christian within her and not just a perception of what some think it should look like. The 5 simple truths in part two of the book are relatable and provide a foundation for anyone looking to further their personal relationship with Jesus Christ. I would highly recommend this book if your looking what a real life miracle looks like even in the midst of a normal everyday life." –Tom K., Reader
"This book was very meaningful to me and a definite page-turner. If you have a faithful background, it definitely makes your faith stronger. Even if you don't, it's a very human and truthful story that most people can relate to in their lives in some way." – Beth W., Reader
"A shame-filled beauty pageant contestant. A rebellious young adult. A 34-year-old mother and cancer patient. "Worthy of a Miracle" is the story of all these women and more. It's a compelling read and page-turner that's chock-full of raw emotion and real struggle. An uplifting Christian memoir, Worthy of a Miracle is both an inspirational tale and an instruction manual for EVERY woman this side of eternity. Enjoy the humor; endure the tears. Charlotte, NC, author Linda Kuhar courageously shares her fight for life — from a challenging childhood to a life-threatening coma. She emerges physically stronger, but only to run straight into an emotional and spiritual crisis. Really? Hasn't she been through enough? Called out as a fake one day following a speaking engagement, Linda falls prey to the darkness and lies of Satan. Once again, however, her spirit is won over by Love and Truth, as she discovers and embraces a living relationship with the one and only source of soul-soothing joy and peace — the Creator of her worth. And still, she keeps it real, writing that her own book (as she bravely ventures into her 40s and parenting a teen), serves as a daily reminder and faith safety net when life seems overwhelming. Keep a highlighter and pens handy when reading this book!"–Lee McCracken, Book Coach & Reader
"Have you ever been curious about what it looks like to walk with Jesus in both the big and everyday moments of life? Then I highly encourage you to read Worthy of a Miracle! From the moment my eyes stepped onto the pages of her book I was captured by her story. Linda writes courageously as she shares her life journey in an authentic & inspiring way, revealing her innermost thoughts and the battle cries of her heart as she reaches out to know God more and learns how to trust Him in all areas of life. A story that reveals love, hope and healing that only Jesus can bring." –Michelle, Reader
"This book was amazing ! I highly recommend it. I am not an avid reader but could hardly make myself put it down. The author shared so openly about each step in her journey. It was written in such a way that I felt like my best friend was telling me her story."
"Linda not only shares her inspiring story and God's healing but provides tools to help us with our own story. I have to say I couldn't put this book down. The Lord will meet you right where you are on every page. I highly recommend her book. "Worthy of Miracle" will make a great gift. Congratulations Linda and thank you for sharing you heart with us."