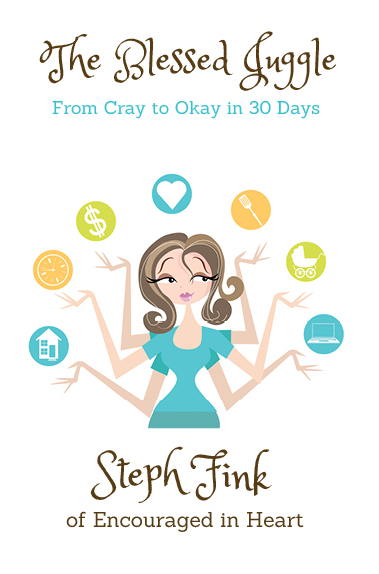 A free book, bling and blessings are what today's guest blog post is all about! I'm sharing an excerpt from my friend Steph Fink's newest book, The Blessed Juggle – From Cray to Okay in 30 Days, available at encouragedinheart.org and Amazon TODAY!
Have you ever gone to bed and thought, "I have no idea how I made it through today?" Or, "I'm so busy I need a break or I'm going to break!" Or, "I can't juggle ONE. MORE. THING." and you said it in Z-formation with three snaps and a neck twist?
I get it. I so get it.
I get it so much that I wrote this book for us. I know we juggle a lot of stuff and wear a lot of different hats. I wrote this book, because I know what busy feels like. Busy feels exhausting. Busy feels productive. Busy feels like I'm important because important people have "stuff" to do, right? But, when I'm too busy, I feel cray (my cool way to say crazy). And, being cray is not okay.
As I've examined some of my past "I'm so busy" statements, God illuminated that many of my "busy" thoughts were rooted in fear. I feared that I'm not enough – so I filled my time with "important stuff" – I feared if I said, "No!", I'd let others down – I feared that I'd live an unimportant life – I feared being out of the loop and missing something, anything, really.
My, "I'm so busy!" almost always had an origin of fear, not faith. The way to combat fear is with faith. God made you and I on purpose for a purpose, and it's to live in, by and with faith. I have faith that whatever God drops into our hands, it is because we're blessed – not because we're busy!
I have a strong aversion to watching re-runs (I've already seen it, why do I need to see it again?). Similarly, being around people that regularly declare, "I'm so busy!" makes me feel a little like I'm watching a re-run of my own life. I want to encourage your heart for the next 30 days to lose the cray, "I'm so busy!" mentality and move to an okay, "I'm so blessed!" attitude. Life doesn't have to be perfect to be okay; okay really is good enough. You are good enough!
This book is small enough to fit in your purse, brief case or diaper bag. It's a book and workbook all in one (one less thing to misplace!) and designed to be used as a journal with blank lines provided each day to record your thoughts. At the end of every day, I included one "Blessed Juggler Tip" shared from my friends that have found a practical way to shift an area of their juggle from cray to okay. I have really smart friends, so you'll want to read their tips!
This book would be a great resource to use for a four-week book club, small group, Bible study or an accountability group. You can use Day 1 as your introduction day and Day 30 as your closing day, which will give you four full weeks of daily encouragement. At the end of each week, go through the past seven-days of discoveries together and then encourage each other!
I pray the words in this book encourage you to realize that while you may be juggling a lot, (maybe even more than you think you can or should handle), it is because you are so very blessed.
It's my heart's desire that you live a very joyful, purpose-filled, and blessed juggle life!
Anyone that shares this post and leaves a comment below about an area that they struggle in their juggle will be entered in to win a free autographed copy of The Blessed Juggle and a pair of these beautiful fair trade Blessed Juggle earrings (in the picture below!)! (The winner will be contacted one week from today on April 18th!)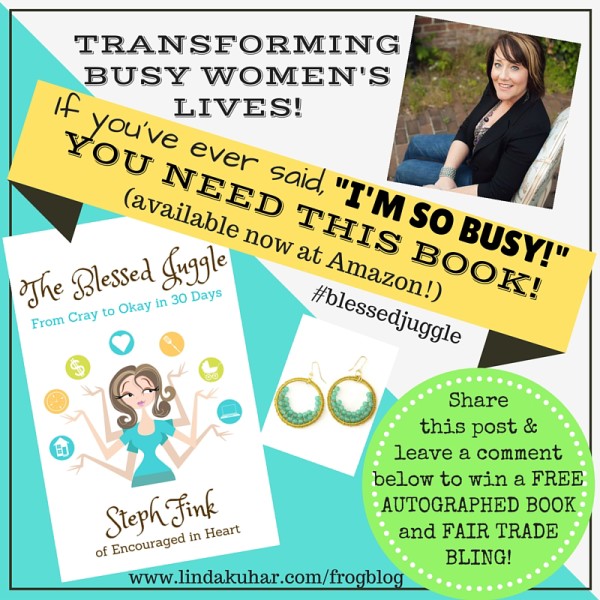 These fun earrings can be worn with jeans, yoga pants or a dress and elegantly captures The Blessed Juggle message. The gold circle represents God and the turquoise balls are all those important people and things you juggle. The turquoise color looks awesome on only everybody! There's a wage difference for women worldwide. Women and their children that live in poverty are at an increased risk for being trafficked (human trafficking is also known as modern day slavery).  I'm so proud to offer these fair trade earrings as the women that created them did so under fair working conditions; ethical fashion is fabulous fashion! I absolutely LOVE wearing mine, which I wore in this video that I made just for you!
About the Author: Steph Fink is an inspirational speaker and author with a passion to encourage hearts to live out their unique purpose. She's the author of The Blessed Juggle – From Cray to Okay in 30 Days, Building Bridges – Made on Purpose for a Purpose and 28 Lessons I Learned When My Head Was Stuck in the Fridge. Steph was born and raised in New Jersey, graduated from the University of Delaware and immediately entered into the United States Air Force. After she was honorably discharged, she relocated to the Washington, DC area and lives there with her husband and their two sons. Steph's company, Encouraged in Heart, LLC, is a proud partner with The A21 Campaign to end human trafficking. A portion of her book and jewelry profits go to The A21 Campaign.  Steph loves big hair, big hugs and big cups of coffee. For daily encouragement, follow Steph on Facebook or Instagram!  You can subscribe to her blog here!