I'm inviting you to pray this today: "Search the inner depths of my heart and expose anything that is not of You so I can be set free of it." Excerpt from Stormie Omartian's book The Power of Prayer to Change Your Marriage.
What do you need to be set free from?
In my quiet time I was reading Psalm 5:11-12 and part of it reads "Let those who love Your name be joyful and exult in You." All of a sudden my eyes were opened to a "bad" habit I have. I have a habit of not being joyful, instead I have a habit of anxious thoughts and worrying.
I've decided I want to create a new habit of gratitude, thankful and joy filled thoughts to replace my bad habit of anxious and worried thoughts.
Let me know what "bad" habit you have and what new habit you can replace it with?
*I will be announcing giveaway WINNER next Tuesday, be sure to leave a comment to be entered to win The Mended Heart by Suzanne Eller.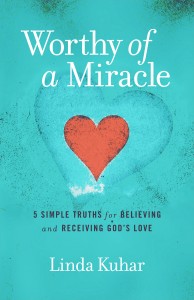 ~Praise for Worthy of a Miracle~
Linda Kuhar extends an invitation to find an extraordinary God at work in the middle of our ordinary lives. She offers faith, encouragement and, most of all, hope. Whether you're going through a difficult time or are simply looking for inspiration and a new perspective, Worthy of a Miracle will meet you where you are and help you see what could be. – Holley Gerth, Wall Street Journal Bestselling Author of You're Already Amazing
I knew Linda's story would be inspiring, but had no idea how much her book would touch my heart as a woman, a wife, a parent and a believer. Seeing how God orchestrated small and life changing miracles in her life literally moved me to tears as I witnessed the tangible proof of the power of God at work. Her story is a beautiful reminder of God's sovereignty, packed with scriptural promises and practical steps for growing our relationship with God, while reminding us all that we are worthy of His miracles too. – Tracie Miles, Christian Speaker & Writer, and Author of two best-selling books, Your Life Still Counts: How God Turns Your Past Into A Beautiful Future and Stressed-Less Living: Finding God's Peace In Your Chaotic World.  
Preorder your copy of Worthy of a Miracle here! Read what other's say about this book here.
Are you tired of procrastinating and ready to get over that hurdle and accomplish your goals? Click here to be placed on my new client waiting list.
Linda Kuhar is a Certified Christian Life Coach, Board Certified Life Coach, Certified Human Behavior Consultant, Author, Speaker and Mentor. Click here to learn more about coaching with Linda & frequently asked questions.
Click here to subscribe to my blog for future inspiration and exciting giveaways.