Do you ever struggle with confidence, insecurity or self-doubt?
There are times I feel completely confident in who God says I am. But then there are days when I feel extremely insecure. I'll admit I'm a bit jealous of you if you do not struggle in this area from time to time.
In Renee's book A Confident Heart you will learn how to break free from these feelings with God's truth. Renee teaches us how to fail forward even when life sets us back. And how to trust the certainty of God's promises when we are uncertain of our circumstances and emotions.
You will love this book and Renee's heart! It's a must read.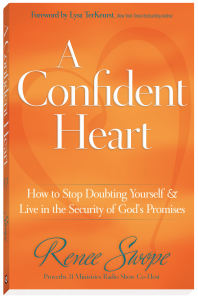 Leave a comment below let me know if there's something you are struggling with so I can pray for you. Everyone who comments will be entered to WIN a personalized signed copy of Best Selling Author, Renee Swope's A Confident Heart. 
Be sure to click here to sign up to receive my blog post. I will be giving away four of my favorite books throughout November and December right here on my blog.
Linda Kuhar is a Certified Christian Life Coach, Board Certified Life Coach, Certified Human Behavior Consultant, Writer, Speaker, and Mentor. Click here to learn more about coaching with Linda & frequently asked questions about the coaching experience.
SPECIAL NOTE: I will be increasing Coaching fees in January due to client volume and limited availability. However, sessions purchased during 2014 can be rolled over into 2015.