Everybody struggles with defeating thoughts; we are not alone in this. The enemy will attack our worth via criticism. We have to stop letting negativity lead us. Instead, take it captive and lead it with the truth.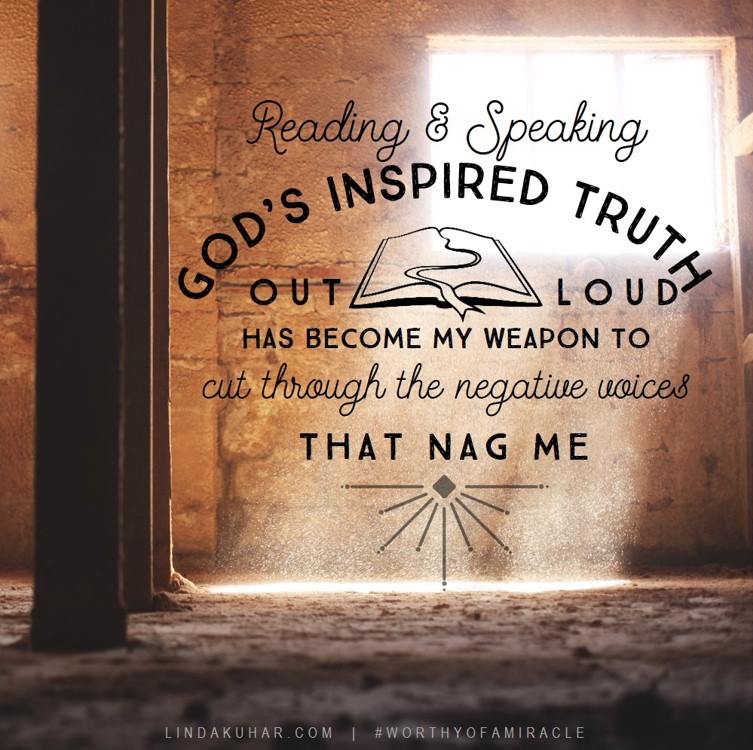 Whenever the lies bombard me, I can speak these five truths out loud instead.
1) God will never condemn me. He does not disapprove of me. He does not criticize or blame me. He does not find fault in me (Rom. 8:1–2).
2) God has not given me a spirit of fear and timidity, but of power, love, and self-discipline (2 Tim. 1:7).
3) I am strong, and the word of God lives in me, and I have overcome the evil one (1 John 2:14).
4) I am in perfect peace because I trust in God as my thoughts stay fixed on him (Isa. 26:3).
5) I have been given authority over all the power of the enemy, and nothing will harm me (Luke 10:19). 
(Excerpt from Worthy of a Miracle, Chapter 15 Speak Truth)
I'm giving away a signed copy of Worthy of a Miracle this month! Leave me a comment below. 
ORDER YOUR SIGNED COPY OF WORTHY OF A MIRACLE HERE!
Are you tired of procrastinating and ready to get over that hurdle and accomplish your goals? Click here to be placed on my new client waiting list.
Click here to subscribe to my blog for future inspiration and exciting giveaways and receive Chapter 1 of Worthy of a Miracle free!