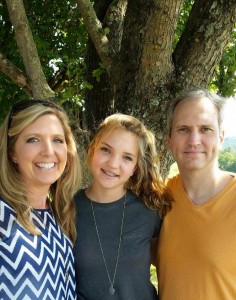 Sometimes I notice the bright crystal blue sky and the fluffy white clouds.
Some days I slow down and breath in the fresh air as tears well up inside me with gratitude.
Some mornings I sit with my daughter and hold her hand taking in the gift of another day with her.
Some evenings I look around my house and notice how my husband has yet again picked up the kitchen and tidied up the counters before heading to bed.
Some days I listen in amazement as a friend gushes with thankfulness for all
God is doing in her life.
And then….
Sometimes I forget that I'm a survivor and miss the blessings right in front of me.
Some days I rush through my day and stress about trivial things.
Some mornings I wake up grumpy and feel down in the dumps.
Some evenings I veg out in front of the TV wasting hours until time to go to bed.
Either way….
Today I'm pausing to say I am grateful for the life I've been given and for you reading this page.
Today is a gift so let's make it count!
Leave me a comment and let me know how you will make today count.
I currently have a waiting list, however I will have appointments opening up in mid September. I want to encourage you that there is hope and a new way of life through Christian Life Coaching. ((hugs))
If you do not already receive my blog, click here to subscribe and get your free gift today!
Linda Kuhar is a Certified Christian Life Coach, Board Certified Life Coach, Certified Human Behavior Consultant, Writer, Speaker, and Mentor. Click here to learn more about coaching with Linda & frequently asked questions about the coaching experience.